THE COMPLETE IDIOT'S GUIDE TO STARTING & RUNNING A RETAIL STORE
Stock Up On Surefire Strategies For Success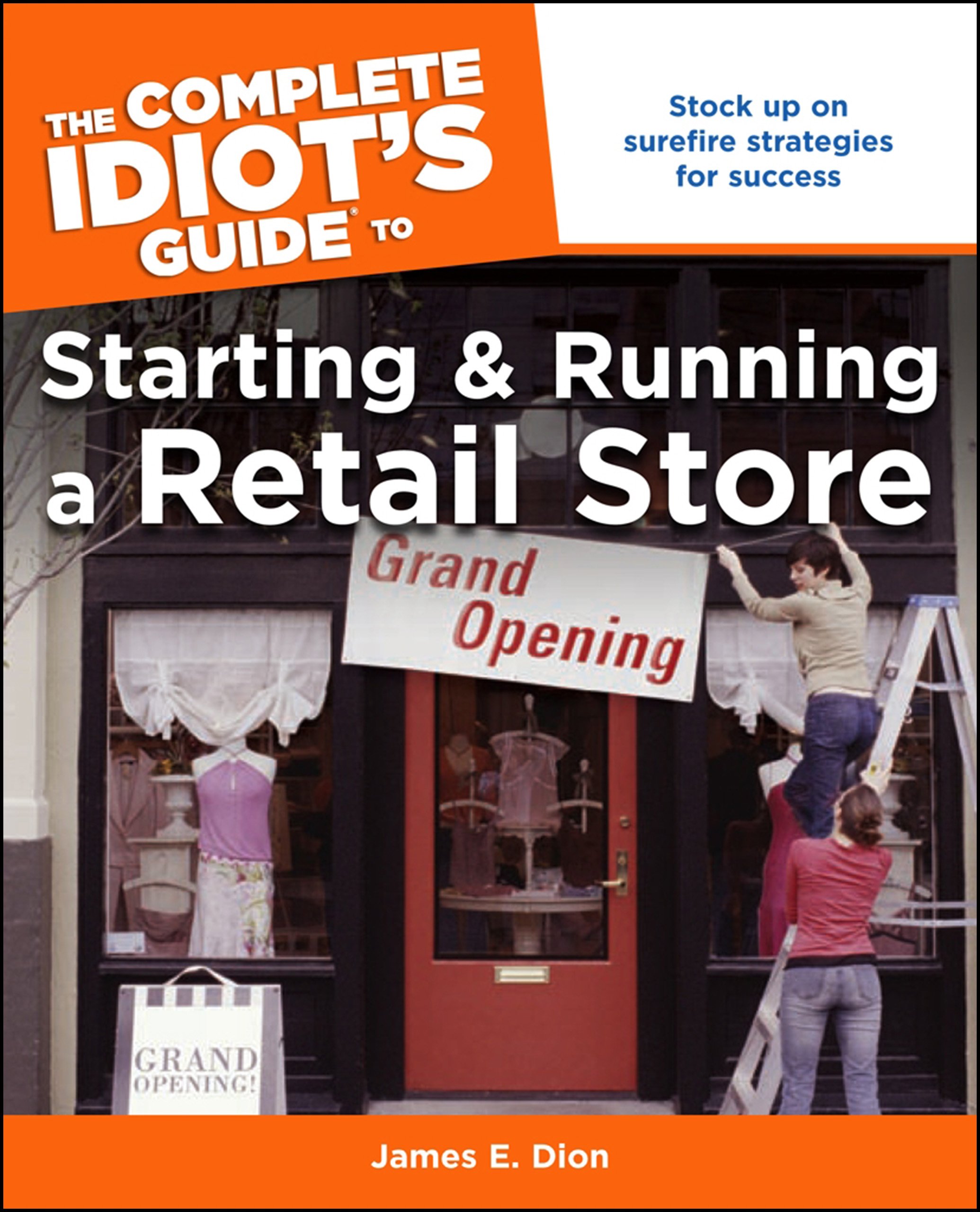 Description
You're no idiot, of course. Between corporate chains, superstores, and independently run stores, the competition between retailers is at its fiercest. It takes more than low prices to attract customers—and maintain their loyalty. The Complete Idiot's Guide to Starting & Running a Retail Store will show you exactly how to get into the business—and stay there.
In this book, you will be taken through the steps of developing your idea, building your strategic plan, designing your store, picking your products, marketing and promoting your concept. Then, you will learn the basics you need to run that store and the techniques and tools to analyze your business and make financial and business decisions that will make you profitable and thrive.
Table of Contents
Introduction
How I've Organized The Book
Extras
Part 1 - When I Grow Up I Want To Be A Retailer
Chapter 1: So You Want to Be A Retailer
Chapter 2: Retail Legends - Can You Be One?
Part 2 - Sizing Up Your Options And Your Competition
Chapter 3: Evaluate Your Idea
Chapter 4: Know Thy Competition
Chapter 5: Know Thy Industry
Part 3 - What You Can Imagine, You Can Achieve
Chapter 6: Define Your Vision And Determine Your Strategy
Chapter 7: Develop A Solid Business Plan
Chapter 8: Raising Capital
Part 4 - Running the Store Or Wearing Many Hats
Chapter 9: Operations Set Up
Chapter 10: Picking The Right Location
Chapter 11: Buying the Right Stuff At The Right Price
Chapter 12: Managing Your Inventory
Chapter 13: Designing The Store
Chapter 14: Displaying Your Product
Part 5 - Nuts And Bolts Of Opening And Running The Store
Chapter 15: Market Your Store and Get Customers To Come Back
Chapter 16: Find The Right People
Chapter 17: Training And Motivating Your Sales Associates
Chapter 18: Serve Your Customers
Chapter 19: Picking The Right Technology
Chapter 20: Using The Web
Chapter 21: Know Your Numbers
Chapter 22: Negotiate Like A Pro
Part 6 - On The Right Track
Chapter 23: Year One Performance - What To Measure
Chapter 24: Year Two And Onwards - Benchmarking
Chapter 25: How To Avoid Losing Your Customers
Chapter 26: Mining The Gold In Your Customer Database
Appendixes
Glossary
Further Readings And Resources
Worksheets And Checklists
RETAIL SELLING AIN'T BRAIN SURGERY, IT'S TWICE AS HARD
9 Steps To Successful Sales Relationships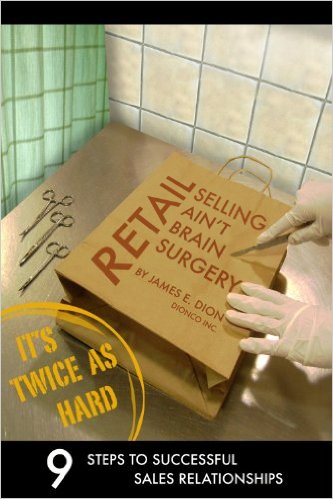 Description
Retail Selling Ain't Brain Surgery, It's Twice As Hard is a hands-on book for Retail Sales Associates of any age or experience who want to gain a deeper insight into what they do. The new Retail Sales Associate will benefit from many of the practical examples and exercises included in the book and the seasoned Retail Associate will benefit from new insights into Customer behavior. As a Professional Retail Sales Associate, you will be introduced to new strategies on:
Avoiding Vending Machine Selling
Keeping Your Distance
Customer Behavior
In-Your-Face Customers
Customers For Life
Less Than Righteous Returns
Maximizing The Last Moment With Your Customers
The Real Secret Service
Practicing To Improve Your Skills
Table of Contents
Preface
The Caravan and The Fleet Introduction
Introduction to Retail Selling
Selling is a profession
Selling is not yelling or telling, it is helping
What makes a great Sales Associate?
A brief history of selling
Marketing selling
The Golden Rule
Vending machine selling
The nine steps to a successful sales relationship
The sales road map
Practice
Keep in Mind
Chapter 1
Step One - The Greeting (Also known as The Opening)
"May I help you?"
What type of greeting is the best?
The "Like me" bias
How Customers behave
Ideal distance
Practice
Keep in Mind
Chapter 2
Step Two - Needs Determination
Why do Customers buy?
How do I move from the Greeting to the Needs Determination stage?
Open-ended questions
Nothing will leave my store until I know what it is for
Listen between the lines
Running it up the flagpole
How Customers behave
Ideal distance
Practice
Keep in Mind
Chapter 3
Step Three - Product Knowledge
Features, attributes and benefits
Where do you begin to learn about your products?
Product knowledge
How Customers behave
Romancing your product
Ideal distance
Practice
Keep in Mind
Chapter 4
Step Four - Suggestion Selling
The best Customer Service
How Customers behave
Ideal distance
Practice: The Twenty Dollar challenge
Keep in Mind
Chapter 5
Step Five - Trading Up
Show the best!
Underselling
How Customers behave
Ideal distance
Practice
Keep in Mind
Chapter 6
Step Six - Answering Objections
Objections need not end the sale
Three steps to handling an objection
Typical objections
An objection due to skepticism
An objection due to confusion
An objection due to a perceived drawback
How Customers behave
Ideal distance
Practice
Keep in Mind
Chapter 7
Step Seven - The Close
Buying signals
Types of closes
1. The Either/Or Close
2. The Assume the Sale Close
3. The Balance Sheet Close
4. The Last Chance Close
Don't talk yourself out of a close
How Customers behave
Ideal distance
Practice
Keep in Mind
Chapter 8
Step Eight - Maximizing the Last Moment
Share-of-mind
The power of thank you
Some other last minute memory makers
Examples
Practice
Keep in Mind
Chapter 9
Step Nine - After Sales Service
Customers for life
Building Customer files
Beyond Transaction Driven Retail
Mining the gold in your Customer Database
Building relationships & repeat business
Practice
Keep in Mind
Chapter 10
The Complaining Customer
In-your-face Customers
Returns
The Customer loses
The less than righteous return
Three strikes and you're out!
Nice Customers will put you out of business!
The real secret service
Helping Customers to vent
Turning a Complaining Customer into an Apostle
Perks
Practice
Keep in Mind
Chapter 11
Building Your Career as a Professional Sales Associate
Where do I go from here?
How much do I have to sell?
Where can I learn more?
Appendix
Answers to Chapter 2 Quiz
Additional Reading
START & RUN A RETAIL BUSINESS
Thrive In Today's Competitive Marketplace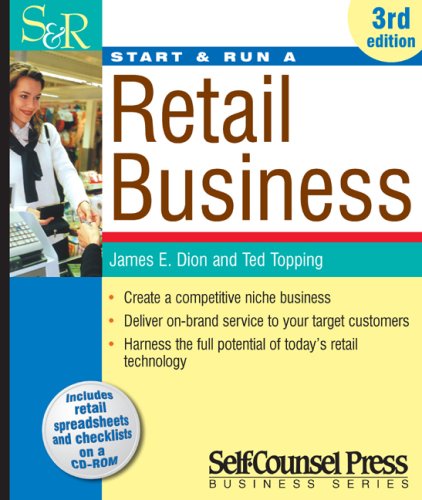 Description
Start And Run A Retail Business recognizes that the retail industry has undergone enormous changes in the past 30 years. Retailing experts James Dion and Ted Topping give clear instructions and acknowledgeable advice on how an owner-operated retail business needs to be organized to survive and prosper in today's highly competitive retail environment.
A succinct and valuable guide, this book is as useful to retailers with established businesses as it is to those who are just beginning a retail business plan. Drawing on their years of experience in the retail industry, the authors provide a detailed, practical job description of the successful retailer, covering:
The Basics of Retail
Merchandising
Buying
Human Resources
Sales Management
Technology
Customer Service
The In-Store Experience
Table of Contents
Preface
Introduction
Learning to Be A Generalist
How to Use This Book
1. The Basics Of Retail
Understanding the Six Rights of Retail
Your Profit And Loss Statement

Preparing A Pro Forma Profit And Loss Statement

Adding Value To The Products You Sell By Adopting a Best-Service Strategy
Developing a Strategic Framework
Developing your Secret Weapon

Developing a Clear Vision of Your Business

Identifying and Studying Your Three Most Important Direct Competitors
Conveying Your Strategic Message Through Your Store Location
Conveying Your Strategic Message Through Your Store Design and Layout
Conveying Your Strategic Message Through Your Advertising
Your Advertising Plan
2. Merchandising
Grouping Merchandise Into Departments and Classifications
Learning from Your Customers What They Want to Buy from You
Using the Retail Method of Accounting
Monitoring Your Business Using a Monthly Maintained Margin Report
Controlling Your Business with Four Key Operating Ratios

Turnover
Stock-To-Sales Ratio
Gross Margin Return On Inventory Investment (GMROII)
Sales Per Square Foot

Using Markdowns Effectively

Using Promotional Markdowns to Stimulate your Sales
Using Regular Markdowns to Adjust your Inventory to Market Value

Increasing Your Credibility by Using Seasonal Markdowns
3. Buying
Seeing your Products Through Your Customers' Eyes
Building Win-Win Relationships with Suppliers
Buying Terms Are Often More Important Than Price
Following Eight Proven Buying Guidelines
Implementing a Price Point Discipline
Establishing a Credit History with Each Supplier
Striving to Reach "Sell and Buy" by Choosing Payment Terms
Calculating an "Open to Buy" For Every Classification, Every Month
Forecasting and Creating Six-Month Merchandise Plans
Buying with a "Just in Time" Philosophy
4. Human Resources
Demonstrating That People Are Your Most Important Asset
Hiring Super Sales Associates
Developing a Written Job Description

Determining Duties By Priority
Identifying Relevant Characteristics and Qualifications
Sales-Per-Hour and Average Transaction Objectives

Creating Win-Win Employment Relationships Through Employee Benefits
Paying Your Sales Associates
Following Established Guidelines for Effective Interviewing

Five-Step Interviewing
Evaluating the Candidates
5. Sales Management
Budgeting Wages and Benefits as a Percentage of Sales
Bringing Productivity to Your Store with Four Key Ratios

Selling Cost
Conversion Rate
Average Transaction
Items Per Transaction

Using the Apprenticeship Method of Staff Training for All New Employees
Providing Guidance and Additional Training
Following Six Steps to Become an Effective Coach
Using Praise
Adjusting Training Methods
Matching Goals and Incentives to Your Sales Associates' Needs
6. Technology
Embracing the Relevant Trends in Retail and Internet Technology

Using a Computer and Retail Software as a Cash Register
Automatic Replenishment
Multimedia
Executive Information Systems
UPC and EDI Technology
The Internet

Budgeting for Technology
Selecting the Right Integrated POS/Merchandising/CRM Package
Understanding the Many Things Your Integrated Package Should Do
Using Technology Wisely to Run a Profitable Business
Keeping Your Inventory, Sales Profit, and Space in the Correct Balance
Making an Informed Decision About POS Software Suppliers

Questions for Potential Suppliers
POS Questions for Retailers
7. Customer Service
Knowing Your Customers
Competing with Vending-Machine Retailers by Adding Significant Value
Creating Top-of-Mind Awareness
Providing Extra-Mile Service
Giving Customers What They Want

Identifying Extra-Mile Service Opportunities

Offering A Make-It-Right Refund Policy
Implementing Relationship Marketing and One-to-One Communication
Identifying Your Best Customers And Creating a VIP Club
8. The In-Store Experience
Stepping to the Other Side of the Counter
Keeping Up to Date in All Areas
Acting Like a Premium Brand That Customers Will Choose
Presenting Merchandise Like a Theatre Company Would
Creating an Optimal Retail Environment

Focus Customers' Attention
Eliminate All Distractions
Establish a Feeling With Music
Have Professional Sales Associates Play Their Roles
Differentiate Onstage and Offstage Areas
Afterword
Appendix 1 – Put It To Work: Action Plan
Appendix 2 – Additional Reading
Checklists
Figures
Samples
Worksheets